When a Contractor completes all of the Line Items in a given Phase, they then "Submit phase for approval" to the Owner.
Once the Contractor has submitted the Phase for Owner review/approval the Owner receives notification that a Phase is ready for review in both the notifications, and on the SOV – which looks like this in the SOV breakdown:

Action: Click "Approve phase and release funds"
The Owner is reminded that this is their chance to make any last minute modifications prior to releasing the any balance funds that the Contractor has saved in buying-down his Subcontractors and Material Providers. – any items not labeled Type: Material (Owner Provided)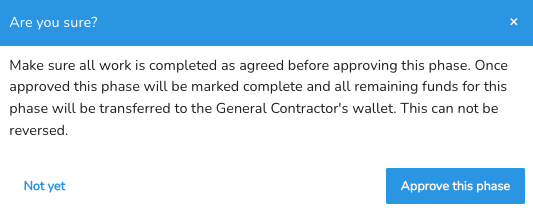 Action: Click "Approve this phase"
Note: Phase Approval from the Owner is the only way a Contractors can get their compensation. Once an Owner approves a phase, the Contractor receives the following for the specific Phase approved:
Any Contractor Management Fee
Any Contractor Profit
Any Buy-Down Margin (Line Item Budget – Subcontracted Vale = Buy-Down Margin

The only Line Item Type that this does not apply to is Material (Owner Provided) – any Buy-Down Margin gained from this Line Item Type is reverted back to the Project Build Wallet.
The Contractor and Owner are aligned since the Contractor cannot receive compensation until the items in the phase are completed and funds are full disbursed.